Jim McNeil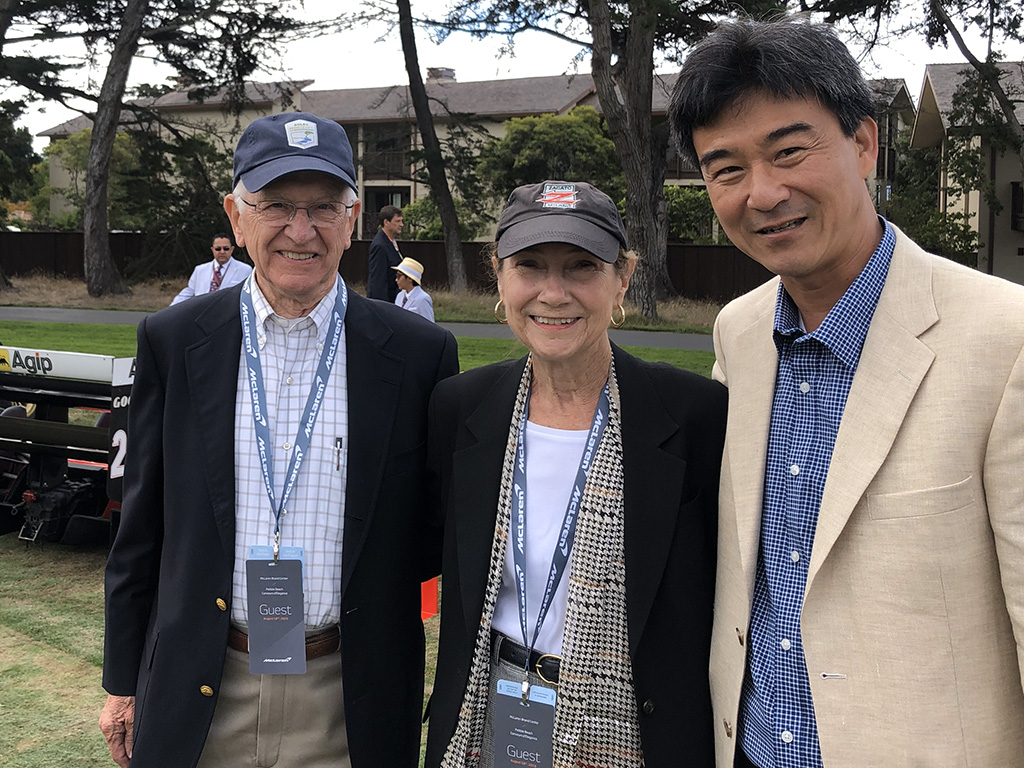 I heard the sad news the my friend Jim McNeil passed away last week from a quick illness. I met Jim and his wife Sandy in 2005 at a party Doug Freedman threw in Carmel. Here's what I wrote in my blog from August of 2005:
A highlight to my afternoon happened after I met François Sicard and his wife Pam at this event. It was nice to catch up in person as I have not had much of a chance to see them in CT with my busy schedule, but as I was talking to a friend, a gentleman walked up to François and started chatting. Within a few minutes, I overheard the man say, "That's him?…Tom Yang?"
François introduced the man and his wife as Jim and Sandy McNeil of NY. Jim enthusiastically explained how much he liked my website, and how he checks it all the time. His wife added that Jim didn't go on the computer except to check tomyang.net! I was flattered by the compliment, and knew that it was fans like them that motivates me to do what I do. I asked Jim what brought him to my website, and he explained he has owned Ferraris for a long time, and they own a GTO.
"A 250GTO,…1 of 39, GTO!?" I asked?
"Yes, the last original unrestored car." replied Jim.
"Wait a minute, I know that car! Was that the one at Rockefeller Center a few years ago?"
"Yep, that's the one." My wife drives it in Vintage Events."
"Wow." Is all I can say.
Without many words to follow all this information, I told the couple that I should be the one honored to meet them instead of Jim being happy to meet me! From there we talked all about the car, and the experience of driving such a great icon of sports car racing. It turned out that they brought out a 289 Competition Cobra for the Monterey Historics instead of the GTO because the Ferrari was out last year with all her sister cars. I was invited to look for them at the track as we left the luncheon….WOW!
That meeting began a friendship with the McNeils that I cherished. I could always find them in the Paddock at Laguna Seca in CA, or Lime Rock in CT, and was always invited to share in the experience with their 250GTO. Jim bought that car in the late 60s for about $8000 dollars and kept it all these years, despite the astronomical prices being paid for any of these cars. We spoke recently about the car when I had heard rumors the car had been sold, and he confirmed the rumors. He resisted for years, but told me he and Sandy met the potential buyer and they knew immediately, he was the right person to get their car.
Years ago, they had a reunion of GTOs at Monterey with track sessions at Laguna Seca and Pebble Beach. The McNeil's proudly displayed their car with all the restored and perfect GTOs on the lawn, and yet SN 3647 attracted the attention of Sir John Surtees and Denise McCluggage. Surtees had driven this exact car back in the day and they shared a nice moment together seeing his old ride again!
Back in 2010 I met Jim and Sandy at Monticello Racetrack in NY to run their GTO and Cobra around the track. I didn't have to be asked twice to hang out at the track and spend some time with the McNeils, but I was taken aback when Jim offered me his GTO for a couple hot laps around the track! I knew this wasn't a off-the-cuff offer, as Sandy once told me that Jim doesn't offer anyone a drive in his GTO! I was honored to have been offered this opportunity, but I respectfully declined by offering to ride in the passenger seat while his Mechanic took the car out. Looking back, it was a offer of a lifetime, and I would have joined the small world of people who have had the chance to drive a 250GTO, but I guess the simple answer was I chickened out! The consolation was I shot this video from inside the car that day in Monticello, and it's preserved forever in my memory. Thanks Jim for being my friend and being so generous with your time and your cars. Rest in Peace.