Amelia 2023 Thursday
RM Sotheby's location was moved this year down the road from Bonhams because Broad Arrow usurped their spot at The Ritz Carlton. I heard this was RM's last year at Amelia Island since Hagerty bought the Amelia Island Concours and inserted their newly acquired Broad Arrow in RM's slot for an affiliated Auction. RM's response to the move was to build the best off site auction at Amelia Island as their farewell auction. Rumor has it they're moving this auction Miami, but whether it will coincide with the Amelia Island Concours is yet to seen, but you can feel the competition rising between these two auction houses.
I was on the hunt for a good "flying mirror" Testarossa, and RM had a nice low mileage example. Having just inspected one a couple days ago in the private market, it was good for me to compare it to this one that was polished and "auction ready."
There was a lot of good inventory available at RM, so I tried my best to take a look at the cars during the preview.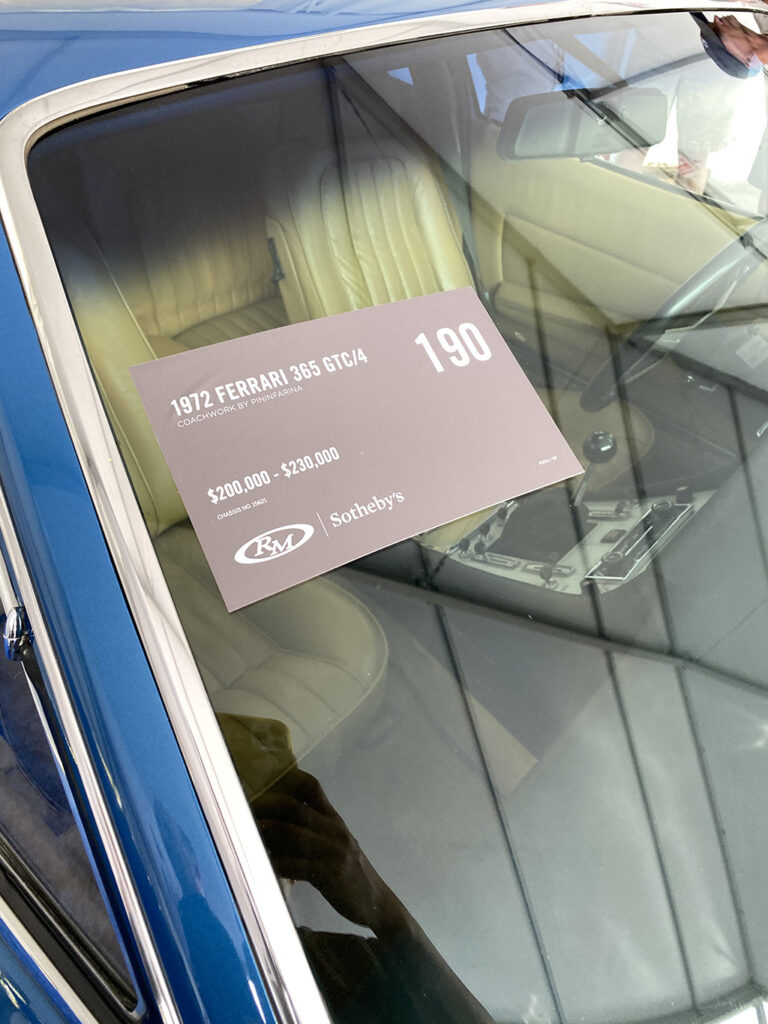 I had a couple discussions with buyers about Ferrari 365GTC/4s and there are two nearly identical blue C/4s, one at RM and one at Broad Arrow.
The RM car was in slightly lesser condition, and had a couple of incorrect details like the dash had been reupholstered in leather instead of the correct "mouse fur" material. This wouldn't affect the driving experience, but is certainly a factor when assigning a value to the car.
I even managed a backstage tour of the RM stage to see the video wall and technical install. In a former life, I worked in television and whenever I get a peek behind the scenes, I wonder if I miss it or and am I happy I'm not doing this anymore. I think I'm more the latter!
From RM, I headed over to the Ritz to see how Broad Arrow used the former RM site for their auction.
They also had some good inventory up for auction.
The had most of their preview out on the lawn behind the Ritz where I found the second C/4 up for auction.
This one had better documentation with a lot of money spent on the restoration. The dash on this car was done in the correct material and the car was very clean and neat.
The engine compartment was clean as well with only minor errors in the detailing, but auctions don't offer you much time to inspect a car thoroughly, and sometimes it requires a gut feeling to pursue a car. I inspected the car with my client and his mechanic in person and discussed what I found. We picked a price the client should pay, and waited for the auction to run in two days. Our client ended up losing the car to a higher bidder at $329K and we felt he was probably better off losing. Well sold.