Amelia 2023 Friday
I can't tell you enough how great it is to have a rental house for the Amelia Island Concours week. Hotel prices for these shows around the world are always jacked up, and we are left overpaying for a cramped hotel room too far from the venue, or having to reserve a $$$ room a year in advance. There is always the discussion among car guys about pooling our money together to rent a house, but there are just as many problems, not even considering lifestyle habits with the housemates you choose. Someone has to step up, find a house, put the deposit down, pay for the house, and collect the money from all the guests. Inevitably, someone cancels or can't commit, so the organizer has to scramble to find a replacement or ends up eating the cost of the empty room. I can't tell you how many times I've come up with an idea like this with my friends who say they're in, only to have them flake out leaving me holding the bag. When my friend Drew offered me a share in a house he was renting in Amelia Island, I jumped at the chance. I planned to pay regardless of my schedule because I would never leave him stranded with my share. I make sure to pull my weight with cooking and cleaning as much as I can so none of my housemates have a reason to complain. The rewards are well worth it.
The benefits are endless. I can wake up in the morning, have a nice cup of coffee while I watch the sunrise. As my housemates wake, we continue the "car talk" conversations from the night before. Because we come from varying backgrounds, the conversations often lead elsewhere and I learn a lot more about things I would have never known. Someone is always coming and going, so I can hitch a ride to and from the venues at different times of the day. In the evenings as Amelia Island and Fernandina Beach gets crowded for dinner and a table for 8 or 10 people becomes impossible, we grill burgers out behind the house. We had a burger night, taco night, and pasta night while we were there. Whenever the shows get too crowded and we need a break from the heat and the traffic, we come back to the house, get something cool to drink out of the fridge and watch the ocean from the deck. If we all had hotel rooms, no matter how nice, the experience would have been alone without the social aspect this house offered!
Roger Morrison was one of my housemates, and we woke up early on Friday before most of the guests and hatched a plan to head over early to see the Porsche show "Werks Reunion."
As we walked through the show, we met up with Bill Warner, the founder of The Amelia Island Concours. Bill sold his creation to Hagerty and stayed on for a couple of years in a consulting capacity. I can see some disappointment in watching Bill's "baby" change with the new ownership, but simply having the time to attend a car show during the Amelia Concours weekend was probably a welcome break!
Bill was showing his 1971 Porsche 911T that he's had since new. It's been hot rodded a little with a 2.7 liter powerplant and some spoilers. This car even participated in a Cannonball in 1975!
The car has been maintained and refurbished as it needed through the years and had the feeling of being an old friend of Bill's.
My favorite part of the whole car was the condition of the original key pouch that tells the whole story of Bill Warner's ownership of this little 911!
We poked around the Werks Reunion looking at some very nice Porsches. We both had stories of how cheap these sunroof coupes were 20-30 years ago, but those days have gone and now they're highly collectable show pieces!
Today, these cars are restored and near perfect commanding 5 and 6 figure price tags. I kind of miss the days when A coupes were $4-5K cars that needed a little work!
From Werks, we headed over to the Gooding Auction. I missed attending the preview the day before, so I had to make quick work to see the cars as they were getting ready to auction the cars off on Friday.
This pretty 246GTS Dino sold for and eye watering $967,500 including the buyer's premium, and even though it checked off all the boxes of being a convertible, having Daytona Seats, and having the flairs for the wider wheels, I'm still not a fan of the flairs. They look too crude and takes away from the elegant lines of a Dino, but at nearly a million bucks, the high bidder didn't seem to mind.
Prices pushing close to a million on these cars makes the car market shake. Will all of these cars start costing more, or was this just an anomaly? I'm sure all of us will be getting calls in the next few weeks with someone wanting to buy or sell a Dino!
The older Ferraris seem to be stagnating, even though this four cam car fetched $3mil, it wasn't a surprise or a significant change from the past few years. Are the buyers for these cars moving on to other cars? Are they aging out without any buyers to replace them? These are conversations I've had time and time again with brokers, collectors, and enthusiasts over this weekend.
The surprise car for me was not only seeing a Stutz Blackhawk being offered at Gooding and Co., but also that it managed to fetch over $200K! I'm sorry, there isn't a redeeming line on this "Neo Classic" automobile I don't care if Virgil Exner penned the car. My apologies for offending anyone who loves or owns one of these things, but come on! The fact that someone paid over $200K shows how much I know about taste or value, but let's just hope the purchase was for those reasons instead of inebriation and a Dare!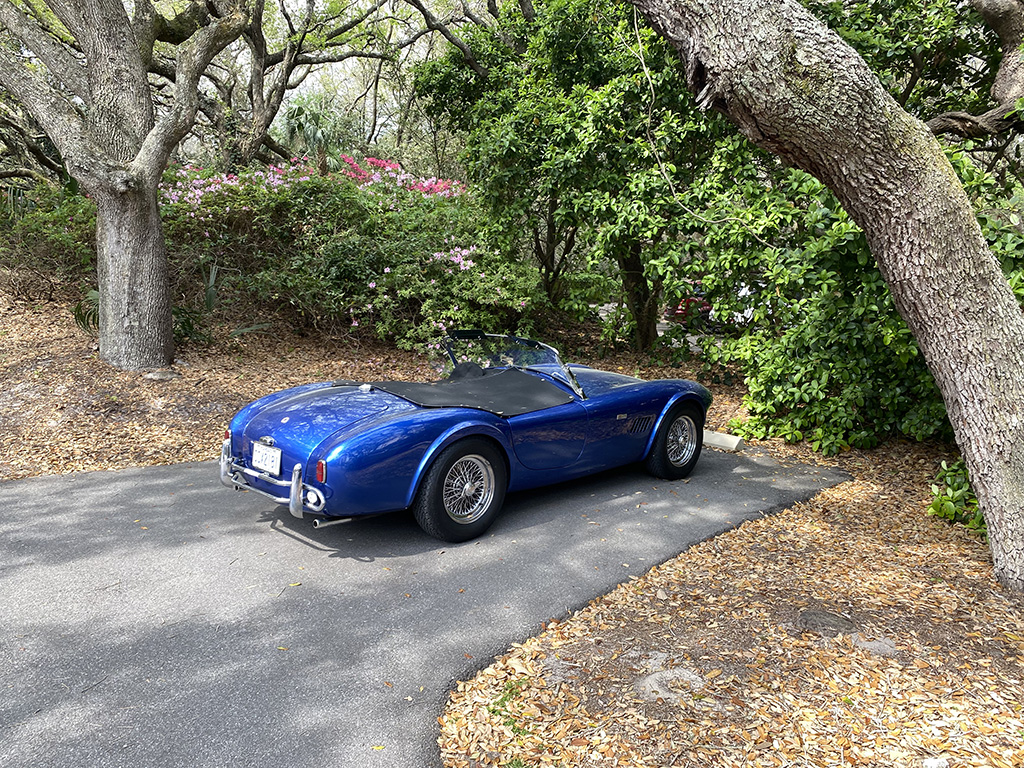 Roger and I left Gooding to rescue his 289 Cobra. He drove it down from North Carolina with a group of Cobra guys including Tom Cotter. As he approached Florida, Roger heard a noise coming from the clutch assembly. He parked the car at his friend's house and borrowed a car to get around for the weekend. During one of our late night discussions at the house, we all agreed the noise was probably nothing major and he could probably safely use the car for the weekend without worry. The nice thing about Cobras is the Ford running gear is nearly bullet proof, and would take a lot for it to break and leave Roger stranded.
To give Roger some more confidence, I offered to ride along and bring his Cobra back to the house so our group of mechanics could confirm our suspicions that it was only a minor noise. At the very least, I could push the car to the side of the road to get help!
The noise was coming from the throw-out bearing and seemed to be less noisy than a few days ago. Roger was generous enough to let me drive his genuine 289 Cobra, my first drive in an original Cobra! I've driven replicas, but driving a real one was something special. As I drove the car, I noticed the clutch pedal was a little low, and wasn't giving full actuation of the clutch. I suspected he was probably low of hydraulic fluid, and could probably benefit from a clutch bleeding. The noise from the t/o bearing was probably from not disengaging the clutch fully while in traffic.
We got the Cobra safely back to the rental house under her own power.
On closer inspection, we found not only the fluid was a little low, but it was also looking a little dark. We suspected the seals were deteriorating and it was time for new seals and fluid replacement. The car was more than driveable for the weekend, so Roger was able to take his Cobra to the Saturday and Sunday events!
I shot video of my ride in a real Cobra!
The wind had died down that evening so we fired up our fire pit and told more car stories with our toes in the sand.