20 Years of Friendship
Michael Greenspan wanted to throw a party in Connecticut to celebrate 20 years of ownership of his Ferrari 330 America and the beginning of a friendship that began with a phone call about a Ferrari!
I remember the call as clear as it was yesterday, when Michael reached out to me to say it was time to make the leap into Ferrari ownership and he wanted to know if I had any advice on how to proceed. His wife Dorie and son Joshua wanted to celebrate Michael's 60th birthday by getting him something he always wanted and a Vintage Ferrari was at the top of the list! I had just returned from the Monterey Car weekend, and stopped in Redwood City to visit a friend with a 330 America that I mentioned to Michael.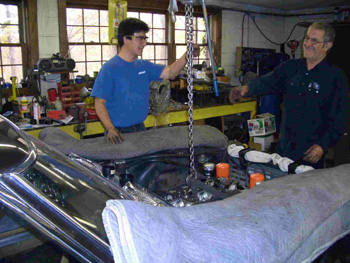 The car needed an engine rebuild, and Michael agreed to buy the car and have Francois rebuild the engine. 20 years later, Michael still owns the car and we've become old friends.
The invitees came to join us at Joshua's house to celebrate the cars, the friendship, and the next generation of car enthusiasts with Michael's grandchildren! We've thrown these gatherings in the past, and it was great to have some party alum come back all these years later. Tom Wilson flew out from Los Angeles and joined us with his wife Paula, and Kerry Chesbro came out from Seattle! Here's a picture of Sam Hallowell, Michael Greenspan, Kerry Chesbro, and Francois Sicard, sharing a story together!
We were joined not only by some old friends, but also some new ones that I wanted to include with this group. Some of them were long time lurkers from my website that broke the ice and came in person to join us at the party. Others were enthusiasts that I knew would enjoy sharing our love of old cars, and it was great to bring them all together.
Tom Wilson and his wife Paula spent the weekend with my wife and I in Upstate NY, and Tom got a chance to drive my 330 America down to the Connecticut as I drove Michael's car down. Of course, we took the back roads down, and I hope he enjoyed them as much as I did!
One family and car that I was looking forward to seeing, but had a bittersweet reunion was Michael Meehan's Ferrari 599GTB. Mike was a usual fixture at these gatherings through the years with his 365GTC/4 or this wonderful 599. His wife and kids would often join us and they became good friends with my wife and I, spending time together throughout the year. Unfortunately, Mike passed away unexpectedly last year, and I agreed to help Marie, his widow, sell the cars. Tom Falzone and I had a mutual friend and I introduced him to Mike Meehan for advice on buying a 599. Shortly after that conversation, Mike passed away, so I reached out to Tom a few months later to offer the car. I think it was fate that we were brought together, and it was great to have Tom, Marie, and Mike's daughter Kate, meet for the first time at one of these parties. I know Mike Meehan was with us in spirit with a smile on his face knowing he'll always be in out hearts.
I want to thank the Greenspans for sharing their home and hearts with me, my family, and the Vintage Ferrari community. These old Ferraris started it, but it's the great people that keep it all together. I am honored to be friends with all of you and look forward to many more years of all of this!