Ferrari 330GT Front Suspension Assembly
I need to give a shout out to my friend Greg Jones in Florida. He's a long time Ferrari restorer, and has saved me and my customers numerous occasions and the latest save was providing me with two little clips that secured the king pin nut on a front suspension I was working on. Trying to describe this to one of the parts suppliers when all they want is a part numbers can be frustrating, and making one from scratch, whether through laser or water jet would prove to be expensive for just two damn clips! I called Greg, and he happened to have a bag of them from the last time he had to order a bunch for the two he needed! He was happy to send me two and save me the time and energy it would have taken to get these two pieces ordered or made. Thanks Greg. My customer and I thank you!
With all the pivoting parts to the front suspension of the 330GT restoration put together and greased, it was time to install the front spring. Despite a pretty safe spring compressor I use, I am always scared to death with the potential energy stored in a spring when compressing it enough to install in the suspension.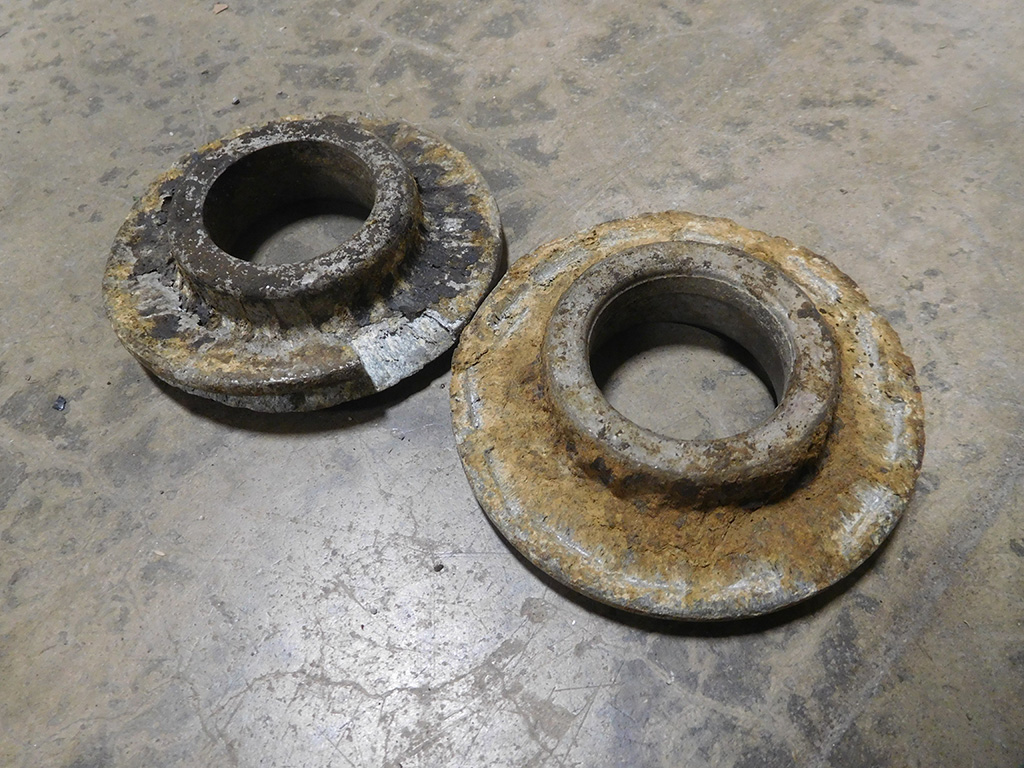 The original spring keepers were pretty rotted and I didn't feel comfortable using them to retain the spring in the front suspension. I bought new ones to install in the suspension.
Unfortunately, these keepers did not arrive until after I installed the spring cups, so I didn't notice this slight dent that prevented the keeper from sliding easily into the cup. These parts needed to slide freely so the large C-clip could be installed.
I used my torch to heat up the spring cup so I could hammer out the dent and make the cup as perfectly round as I could.
I am always relieved whenever a suspension component is installed, and I still have my life, limbs, and fingers unharmed. It might just be my caution, but this kind of work always makes me happy when it's done!