330GTS Suspension and 365GTC/4 Brakes
Work continued on the 330GTS we have at the shop. It's a nice car and didn't need much, except for some suspension work. While it's here, we'll be doing a couple of small things.
The previous owner installed rubber fuel lines in place of the vintage aircraft fuel lines Ferrari used in the 60s. I sometimes don't blame people for doing this because the rubber lines are less expensive and easy to obtain, but it just doesn't look right in the engine bay!
These yellow lines are about 10 bucks an inch, and I replaced 29 inches of the stuff, but now the engine compartment looks right!
Most of the suspension arms were removed except for the problematic one connected to the steering box (more on this in a later post). They'll be cleaned up, inspected, and serviced. We're not going to go crazy with the detailing on the suspension with plating and powder-coating. The owner has plenty of show cars in his collection but plans on driving this one. I would say he picked a good one of the bunch to use for driving!
The bushings were pretty old and rotted, so they were pressed out and new ones were ready to be pressed back into place.
This car was not repaired with the suspension recall that was issued in the late 60s. All 330GTCs and 330GTSs have a weakness in their front suspensions and a recall notice was issued back in the day. I've strengthened at least four cars in the last 10 years, and notified several owners about their cars that were not fixed. Eventually all of them will get fixed, but as we can see, there are still cars out there that have not been done!! You can read more about it here: 330GTC/S Recall
The right front suspension is easy to access and with everything removed you can really see how little steel there is to hold up the front coil over shock assembly .
The recall is pretty easy to perform and involves welding a small piece of steel to box in the shock mount to the frame of the car. I've fabricated a piece to fit in the space and all that has to be done is some removal of paint and some welding. This can be done with the shock in place, but with the suspension out of the way on this car, it'll be that much easier.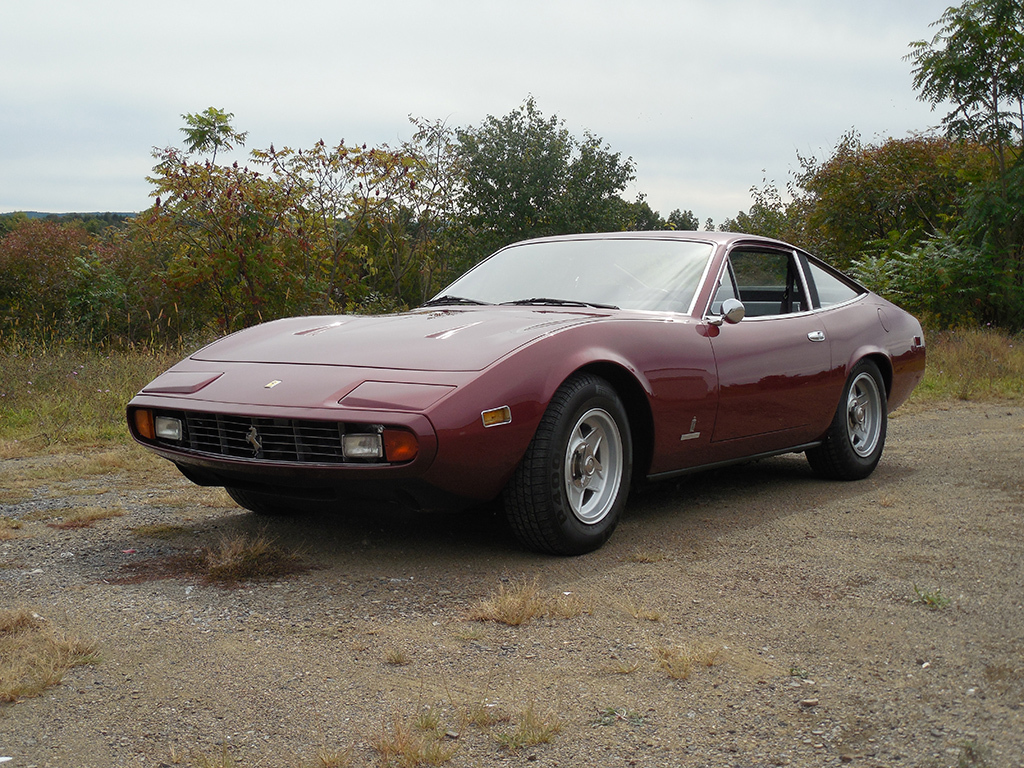 I've had a 365GTC/4 in my care over this winter, and one project I promised I would do was a brake job on the car.
There is some high speed pulsing coming from the front of the car that points to a warped rotor, but unfortunately the rotors on this car have been turned down to their minimum thickness. What's worse, is replacement front rotors for 365GTC/4 are $$$ if even available. I have not confirmed this, but I heard they may be up to $2k each!!!
If I can confirm this is the price for a 365GTC/4 front rotor, it will definitely be cheaper to have one made from scratch. My parts vendor said he has a company that may be able to do this and he would be interested in making several sets if the price is right. It all starts by boxing up the rotor and sending it out for a quote. The C/4 rotor fit perfectly in a USPS flat rate box which allows you to ship anything you want for one price in their box regardless of weight. I'll definitely be getting my money's worth with this shipment!