RM Auctions at Monterey 2023
One of my first stops in Monterey was to see the auctions. There are a handful of auctions all around the Monterey Peninsula with a large assortment of cars up for sale. Ferraris were always popular.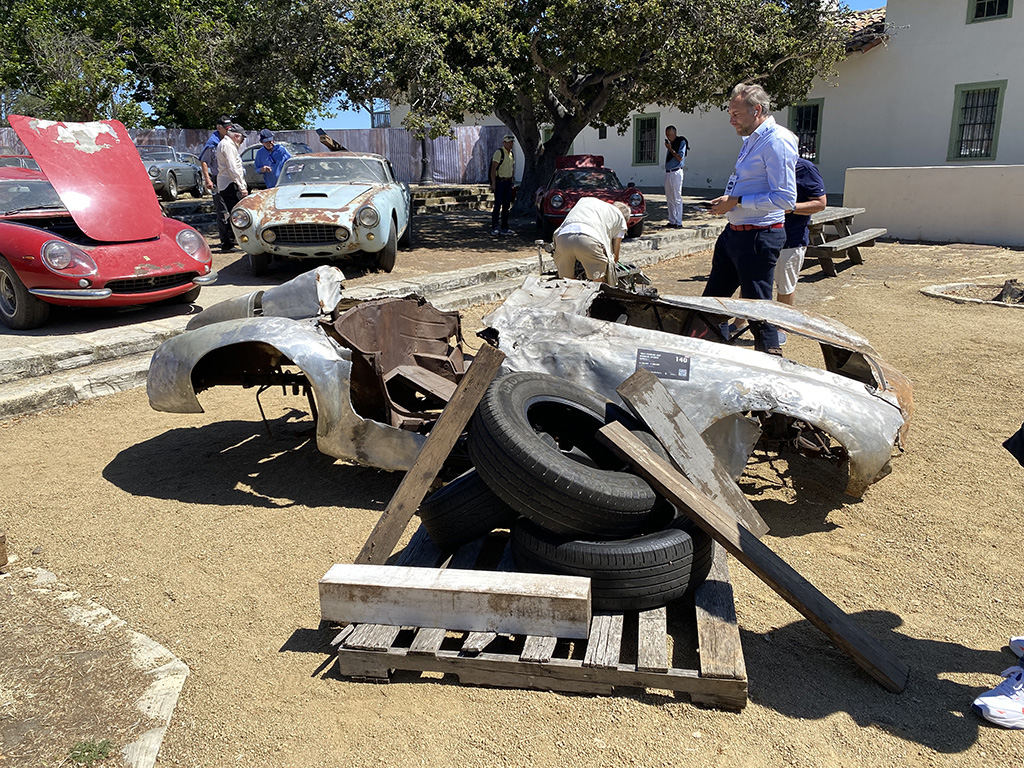 One interesting collection up for sale at the RM Sotheby's Auction was Walter Medlin's collection of "barn finds." I met Walter 10 years ago and had a three hour "coffee" in Florida talking about his car collecting and time with the FCA in the 70s and 80s. You can read about my visit here.
A lot of these cars were once stored in a building in Orlando Florida when a hurricane blew in over a dozen years ago, flooded, smashed, and ruined a lot of cars. Walter moved the collection out of the public's eye to another warehouse and they sat untouched for many more years. RM took the cars and brought them back into the light to sell this weekend. I thought the prices paid for some of these cars were a little high. I hope the new owners were preparing to keep them as display pieces, because many of them may cost more to restore than the worth of a good car. Ironically, the highest price paid for this wreck of a race car may be the only one that might come close to breaking even if the new owner decides to restore what's left!
On the weeks leading up to Monterey, I am often contacted by people considering the cars up for auction. One car I was asked to inspect in person was this black 246GTS Dino. It was a chairs and flairs car, which is considered desirable to collectors. My buyer wanted a black car and this one seemed to check off all his desires. He couldn't make it to Monterey this year, and asked if I could inspect the car and possibly bid on the car in his stead if we decided it was worthy. I looked up the information on the car prior to arriving in Monterey, and researched the shop and work that was previously done to the car.
Auctions don't make it easy to inspect a car, as it's very difficult to look underneath, perform a compression test, or even drive the car. There is usually only one or two days to look at the car before it goes across the auction block, but still seeing the car in person can show a lot of things that don't resolve in pictures. Luckily, my friend Jake O'Gorman works for RM and I can schedule a personal tour of the car, even off hours if need be. This car looked really good in person. The paint work was exceptional, but I confirmed the thickness with my hand held paint meter. Often times, paint can look mirror smooth, but this is sometimes achieved with layers of plastic filler filed and sanded down to a smooth finish. The problem with this is as the paint ages, the different layers of filler, primer, and paint begins to shrink, expand and contract, and can affect how the paint and finish of the car ages. Trying to determine how much filler was used under the paint would help decide if this car will hold up over the years.
Inside the car, everything was restored, but some of the materials that were used were not actually concours correct. The "mouse fur" dash on this car was a material that was available several years ago, but has since been superseded by a better more accurate material to the original. I'm sure at the time this car was restored, this was all that was available but can be considered wrong to a Dino Concours Judge. The "Daytona Stripes" in the seats were not the correct molded vinyl stripes that was used originally on this car, but rather strips of black leather with holes punched in the stripes. These little details may not offend 99% of the world, but if my client was going to pay top dollar, he might as well know what he's spending his money on! Despite my protestations, we decided he still wanted me to bid on the car. After my inspection, I went into the auction office and registered on behalf of my client for a bidder number and checked when this car would come up for auction in the next day or so.
While I was there, the same buyer asked me to look at a Bizzarrini that was up for sale at the same auction. I told him I knew very little about Bizzarinis and the closest thing I came to one was I drove and inspected an Iso Griffo several years ago! I could, however, inspect the car as I would any car, looking over the condition of the paint, the fit and finish, and even ask some friends for their opinions on this particular car.
It didn't take long for me to find a paint issue of the right door of this car, and make me take pause how such fresh paint on a car like this could show rust swelling in a lower door corner. I also bumped in to a friend and collector of these cars, and was introduced to an expert on Bizzarrini via e-mail. I soon was filled in on the history of this car and his issue with the it being possibly a post bankruptcy continuation chassis. To some this car is a legitimate Bizzarrin, while others feel differently. I got back on the phone with my buyer and told him in my opinion, this was a pass. Moving on!
There were plenty of other cars to see on display, and whenever I see a 330GTC for sale, I always check to see if the shock mounts have been fixed. I've talked about this issue extensively, but it's always good to make sure all the GTC have been fixed.
Well, this one was not! Not only was it not fixed, but it looks like someone had already done some welding, but in the wrong place to offer any support to the weak shock mount.
I hope whomever buys this car, learns about the factory recall and the danger of this failing shock mount and gets it fixed before driving this car. Keep an eye out for this serial number guys and please tell the new owner to get this fixed!
I found another familiar car parked in the front of the Portolo Plaza where the RM Auction was being held. I met the owner and his family many years ago at Concorso Italiano during a Monterey weekend and they told me the story behind this car. It was bittersweet to see this car for sale as it had been with the family for so long.